Clay Brick Making Machine for Sale
Top Quality Clay Brick Maker - LONTTO
Top-notch Machinery for robust performance
Solid Build quality & promised High production
Quality Certified Machinery with ISO 9001:2000 & CE certification
Clay Brick Making Machine
All-in-one solution for your clay brick production
Heavy duty clay brick machines with long performance cycles
Supreme after-sales service
All types of brick making machines for sale
To produce clay soil bricks
LT2-40 Manual Clay Brick Machine
LT2-40 is an inexpensive manual clay block-making machine that offers premium build quality and good production for small brick business owners. 
The machine is single-handedly operated without any power source. It is a cost-effective solution for small investors and an absolute power saver.
Technical Specifications:
Molding Cycle: 40 secs
Input Power: Manually operated by hand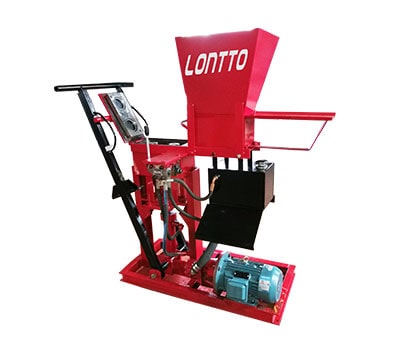 Eco Brava Clay Brick Machine
Eco Brava Clay is a partially automatic clay brick machine that can produce several types of bricks as there are different molds available.
Hydraulic pressure brick molding is integrated to ensure the high quality and strength of clay bricks. It is best suited for small investors and clay brick businesses.
Technical Specifications:
Molding Cycle: 20-25 secs
Input Power: 2KW Electric Motor or 6Hp Diesel Engine
Raw Material: Clay, Soil, Cement, Sand, Water
ECO BRB Clay Block Machine
ECO BRB is a semi-automatic clay brick making machine that can produce two blocks per mold. It's easy to operate and handle.
With a hydraulic pressure system for molding, it reaches 60 MPa pressure to produce fine quality clay bricks.
It can also produce cement blocks. It is a good choice for small investors.
 Technical Specifications:
Molding Cycle: 20 secs
Input Power: 2KW Electric Motor or 6Hp Diesel Engine
LT4-10 Automatic Clay Brick Machine
LT4-10 is an automatic clay brick machine that can produce up to 8000 clay bricks per 8 hrs. a day. It is integrated with a PLC control system, automatic material feeding, and mold pressing.
It is well suited for large clay brick businesses as it guarantees high production. It comes with a reasonable price tag.
Technical Specifications:
Hydraulic Pressure: 21 MPa
Molding Cycle: 8-10 secs
LT5-10 Clay Brick Macturing Machine
LT5-10 is a fully automatic variant of a clay brick machine, able to produce 14400 pieces of clay bricks every 8 hrs.
It is a production line machine that guarantees profitable production and low maintenance due to strong build quality.
It is the best choice for large brick businesses and new entrants into the brick-making market.
Technical Specifications:
Hydraulic Pressure: 60 MPa
Molding Cycle: 5-10 secs
M7M1 Clay Brick Making Machine
M7M1 is a mobile clay brick-making machine that is fitted with a 12 Hp diesel engine. You can easily move the machine to other sites.
It is good for countries with load shedding issues and no electricity.
Technical Specifications:
Input Power: 12 Hp Diesel Engine
Hydraulic Pressure: 16 MPa
Molding Cycle: 15-20 secs
Capacity: 2400 pcs Clay bricks/ 10 hrs.
Welcome to Visit Lontto Brick Making Machine Factory
Lontto Clay Brick Making Machine
LONTTO is one of the best clay brick machine manufacturers in China. It is not just a show-off statement but the clients we have served and the customer service we proudly provided, have awarded us with the top rank in brick machine manufacturing.
We offer quality products to you, manufactured with precision engineering and made by a highly qualified and trained staff of technicians. For over 30+ years of doing business in Africa, the Middle East & Asia, LONTTO has achieved excellence in clay brick machine production with knowledge and experience that other manufacturers lack. LONTTO produces machinery by focusing on the strength and performance of every single part.
LONTTO ensures industry-standard technology with easy maintenance and functioning. As machines are built with strong steel structures integrated with high-grade parts by Emerson, Schneider, Omron, and Calyca, longer operation cycles are guaranteed with low maintenance.
Machines work well when your workers are fully trained to work with these clay brick machines. Therefore, LONTTO provides free training to all its customers worldwide. When the machine operator is highly trained, it can help you produce large numbers of clay bricks with good quality and efficiency.
LONTTO's customer support is provided to all clients looking for various queries and machine specifications. Our team provides a complete machine catalog for your specified clay brick model to help you make an informed decision.
You can choose LONTTO because of the quality experience, global clients that it has served, readily available customer service, and competitive product costs.
Related Products With Block Making Machine
Earth Soil Brick Machine
Manual Block Making Machine
Semi-Automatic Block Machine
Cinder Block Making Machine
Fly Ash Brick Making Machine
Concrete Block Making Machine
Automatic Block Making Machine
Hydraulic Brick Making Machine
The Ultimate Guide: Clay Brick Making Machine
What Is Clay Brick Making Machine?
Clay bricks are a common building material made by mixing sand, clay, cement, and water. Clay bricks are treated with heat at high temperatures to make good quality bricks that can serve as a building material.
Clay bricks are handmade and machine-made via different processes. A clay brick-making machine is specialized equipment that is engineered to produce clay bricks at a steady rate. Clay brick makers ease the process of making bricks easy and smooth.
Clay brick machines work by taking raw material mixed in definite proportions and a molding press molds the mixture into required shapes. Clay brick production with the help of machines is an efficient way to produce bricks.
Molded bricks are then heat-treated to form the final product that is used in construction straightaway.
What type of clay bricks can be manufactured?
Clay bricks come in a variety of shapes and sizes. Interlocking bricks, paver blocks, and solid bricks are common clay bricks. LONTTO offers 30+ mold types for clay brick production. So, there are a lot of clay brick designs you can choose from for your needs.
As every different mold produces a different clay brick, we can design a custom mold built for your specified use.
What are the applications of Clay bricks?
Clay bricks are widely used in the construction of domestic and commercial building structures that are built to last long. Normally clay bricks are used in walls, roofs, terraces, and facades.
Clay bricks don't decay easily over time as these bricks are produced for long-life structures. Clay bricks provide a cost-effective solution in the long run.
Homes that are built using clay bricks have a high resale value as the bricks remain damage-free for a longer period.
Clay brick production might seem expensive as compared to other brick types but it ensures well-built structures requiring low to no maintenance over the years.
What types of Clay brick machines are for sale?
Clay brick machines range from manual to semi/fully automatic models built for sustainable clay brick production.
Either you own a small business or a large brick manufacturing plant, we have a model specified for your brick manufacturing needs.
Manual models require one to two workers to operate the machine. These models come without an external power source and can save power consumption.
Semi-automatic models are fitted with a control system and internal power unit for functioning. Hydraulics system guarantees smooth machine operation and good production.
Fully automatic machines are built for large clay brick businesses as these machines ensure very high production capacity and autonomous machine functions.
Large production plants can use these models to meet client demands.
Some clay brick machine models to mention are ECO BRAVA, ECO BRB, LT2-40, LT4-10, LT5-10, M7M1.
You can contact us now for a price quote and information, we will provide you with a complete product catalog.
How can You choose the right clay brick machine model?
Choosing the right clay brick machine model is essential for your business size, budget, and demand.
First of all, you need to have an estimate of the budget you have for the machine you require.
Clay brick making machine price is the major role player in any business strategy.
You should select the model that you can easily pay for and then gain profit over time.
Contact us to see which models fit in your budget profile and then move on to identify your production capacity requirements.
You should see whether you require a low number of bricks or high demand.  You can then select the clay brick machine that fulfills your production demand.
If you are a small investor, you can start with manual machines and after getting multiple clients, and as your demand grows you can opt for automatic models. In this way, you can grow your brick business exponentially.
Lastly, you should check that the machine can produce all the required types of clay bricks. If not, you can order a custom mold for your brick type.
If you keep all these points in mind, you can make a good decision.
How to choose the right manufacturer?
When you make up your mind to buy a clay brick machine, you should first identify a quality manufacturer to buy.
There are certain points that you should keep in mind if you want to buy a high-quality machine.
You should be certain about the experience of a manufacturer and the machine quality it offers. Any business that starts, requires experience to grow as an entity for customers and build an authentic voice by offering great quality.
When a manufacturer is experienced and builds machinery with only high-grade parts, the top performance is guaranteed. The most experienced manufacturer will provide you with good insights on machine working and staff training.
So, you should look for a brand that has been in the business and has customers that trust the machine production of the clay brick maker.
Trustworthy Customer Service:
When you decide to buy a clay brick machine that is worth a great amount of money, you certainly rely on the company's support to share complete information regarding the product you are buying.
Not every single company provides its services for the client. So you should look for a company that cares for the consumer. Many manufacturers promise reliable customer support but when you have a query, they don't respond thoroughly.
So, you should choose the company that provides complete product information before and after the purchase.
Every manufacturer relies on several brand partners for the supply of machine parts and systems. Like LONTTO has a partnership with Emerson, Schneider, Omron, Calyca. etc. Such type of partnership and bond ensures high quality of machinery.
A machine is a set of different parts that work in a unified manner.  A manufacturer doesn't produce everything itself, therefore it partners with other suppliers for a variety of parts.
You should look into the manufacturer partnerships to know that the machine you are buying is produced by the best in business.
One most important factor to note is that the clay brick-making machine complies with all the safety and quality standards and is certified by international bodies. These sorts of certifications guarantee safe product usage and machine build quality.
Several manufacturers promise a lot of things when you are looking for the best product to buy but only a handful of the clay brick machine makers deliver the absolute quality product.
You should look for customer reviews and ratings. You can also talk directly to businesses that are using the manufacturer's product for feedback and opinion.
What is the cost of a Clay brick machine?
Clay brick machines' cost varies concerning the functionality it offers. Manual brick machines are the cheapest and the fully automatic clay brick-making machines are the expensive ones due to the ease these models provide.
LONTTO's price tags are reasonable as it provides free training to your workers to ensure maximum machine efficiency.
You can send us your query for the model you need. Our customer support will contact you with complete details and a quote.